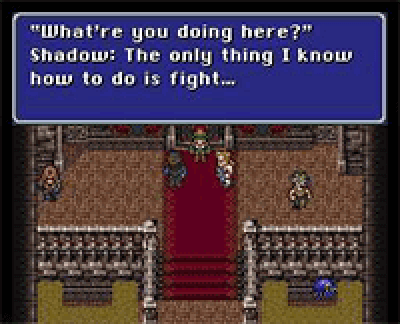 Im Nordwesten der World of Balance lebt ein alter Mann, der von einer großen Kampfarena träumt, in der eines Tages Kämpfer aus aller Welt gegeneinander antreten können. Später wird an diesem Fleck das Kolosseum stehen, wo ihr auch zwei alte Bekannte wiedertrefft… ;)
Das Kolosseum funktioniert folgendermaßen: Ihr wählt ein Item, eine Waffe oder ein Rüstungsteil als Einsatz und bekommt dann einen bestimmten Gegner zugewiesen, gegen den ihr alleine antreten müsst. Welchen Charakter ihr in den Kampf schickt, bleibt euch überlassen. Allerdings werdet ihr keine Kontrolle über ihn haben, d. h. der Kampf verläuft automatisch und gewissermaßen zufallsgesteuert. Lediglich durch den geschickten Einsatz von Relics können die Handlungen eurer Figur zumindest ein bisschen beeinflusst werden.
Geht ihr siegreich aus einem Duell hervor, bekommt ihr einen neuen Gegenstand als Belohnung und müsst das zuvor eingesetzte Item abgeben. Verliert ihr den Kampf, ist der Wetteinsatz futsch!
Um gegen Shadow anzutreten, müsst ihr den "Striker" einsetzen, welcher sich in einer Höhle im Veldt (World of Ruin) finden lässt. Voraussetzung dafür ist jedoch, dass ihr zuvor auf dem Floating Continent bis kurz vor Ablauf des Countdowns auf Shadow gewartet und ihn mit aufs Luftschiff genommen hat. Andernfalls werdet ihr ihn in der World of Ruin nicht mehr ins Team holen können!
Die folgenden Tabellen zeigen alle möglichen Wetteinsätze und die Preise, die es dafür zu gewinnen gibt.
Waffen
Einsatz
Gegner
Gewinn
Blizzard
Scullion
Ogre Nix
Assasin
Test Rider
SwdBreak
Strato
Aquila
P. Lance
AtmaWeapon
Gtbemoth
Graedus
FixdDice
Trixter
Fire Knuckle
Trump
Allosaur
Trump
Striker
Chupon/Shadow
Striker
MagusRod
Allosaur
Strato
WingEdge
Rhyos
Sniper
Ogre Nix
Sir Behemoth
S. Sabre
Stunner
Test Rider
Strato
Graedus
Karkass
Dirk
Crystal
Borras
Enhancer
A. Lance
LandWorm
Sky Render
Imp Halbred
Allosaur
Cat Hood
Hardened
Phase
Murasame
T.Blade
Sterdite
Ogre Nix
Scimitar
Covert
Ogre Nix
Doomdart
Opinicus
Bone Club
Sniper
Borras
Bone Club
S.Sabre
Opinicus
Falchion
Tiger Fang
Mantodea
Fire Knuckle
Thief
WartPuck
Thief Glove
Dragon Claw
Test Rider
Sniper
FireKnuckle
TmblWeed
Fire Knuckle
Punisher
Opinicus
Gravi Rod
V.Knife
Woolly
Assassin
Heal Rod
Pug
MagusRod
Falchion
Outsider
Flame Shield
Drainer
Envo
Drainer
BrkBlade
Lethal Weapon
BrkBlade
F.Sabre
Evil Oscar
Ogre Nix
P.Lance
Sky Base
Strato
BoneClub
Test Rider
R. Jacket
Aura
Rhyos
Strato
Sky Render
Scullion
A. Lance
Murasane
Borras
Aura
Rising Sun
Allosaur
Bone Club
Illumina
Scullion
Scimitar
Ragnarok
Didalos
Illumina
RainBrush
Test Rider
GraviRod
---
Rüstungen
Einsatz
Gegner
Gewinn
Imp Armor
Rhyos
Tortoise Shield
Ice Shield
Innoc
Flame Shield
Aegis Shield
Borras
Tortoise Shield
Thornlet
Opinicus
Mira Vest
Paladin Shield
Hemophyt
Force Shield
Crystal Helmet
Dueller
Diamond Helm
Crystal Mail
Covert
Ice Shield
Genji Helmet
Fortis
Crystall Helm
Genji Shield
Retainer
Thunder Shield
Genji Armor
Borras
A. Anchor
Tortoise Shield
Sterdite
Titanium
TabbSuit
Vectaur
ChocSuit
Titanium
Bracosaur
Cat Hood
SnowMuff
Retainer
Charm Bangle
Hema Shield
Didalos
Cursed Ring
Choc Suit
Veteran
Moogle Suit
Tao Robe
Test Rider
Tao Robe
NtknSuit
Opinicus
Genji Armor
Cat Hood
Hoover
Meri Award
Coronet
Evil Oscar
R. Crown
F. Armor
Sir Behemoth
F. Armor
Force Shield
Dark Force
Thornlet
CzwarGown
Sky Base
Minerva
Flame Shield
IronHtmn
Ice Shield
Behemoth Suit
Outsider
Snow Muff
Minerva
Pug
CzarGown
Mira Vest
Vectgoyl
R. Jacket
Moog Suit
Madam
Ntkn Suit
Thunder Shield
Outsider
Genji Shield
Red Cap
Rhyos
Coronet
R. Jacket
Vectgoyl
R. Jacket
R. Crown
Opinicus
GenjiHelm
---
Relics
Einsatz
Gegner
Gewinn
Rage Ring
Allosaur
Blizzard Orb
Safe Ring
Chupon
Safe Ring
Gauntlet
Vectgoyl
Thunder Shield
Gold Hairpin
Evil Oscar
Dragon Horn
Cryst Orb
Borras
Gold Hairpin
Exp. Egg
Sterdite
Tintinabar
MeriAward
Covert
Rename Card
Genji Glove
Hemophyt
Thunder Shield
Relic Ring
Sky Base
Charm Bangle
Economizer
Vectgoyl
Dragon Horn
Safe Bit
Pug
Dragon Horn
Gem Box
Sir Behemoth
Economizer
Charm Bangle
Retainer
Dragon Horn
Tintinabar
Dark Force
Exp. Egg
Sneak Ring
Tap Dancer
Thief Glove
Thief Glove
Harpy
Dirk
Cursed Ring
Sterdite
Air Anchor
Dragon Horn
Rhyos
G. Hairpin
Blizzard Orb
Allosaur
Rage Ring
Hero Ring
Rhyos
Pod Brace
Muscle Belt
Allosaur
Crystall Orb
Pod Brace
Hemophyt
Hero Ring
MarvShoe
Tyrannosaur
Tintinabar
Moogle Charm
Outsider
Charm Bangle
Ribbon
Dark Force
G. Hairpin
---
Sonstiges
Einsatz
Gegner
Gewinn
A. Anchor
Brontaur
Zeph Cape
Elixir
Cactrot
Rename Card
Tack Star
Opinicus
Rising Sun
Ninja Star
Chaos Dragon
Tack Star
Fenix Down
Cactrot
Magicite
Megalixir
Ziegfried
Tintinabar
Rename Card
Doom Dragon
MarvShoe